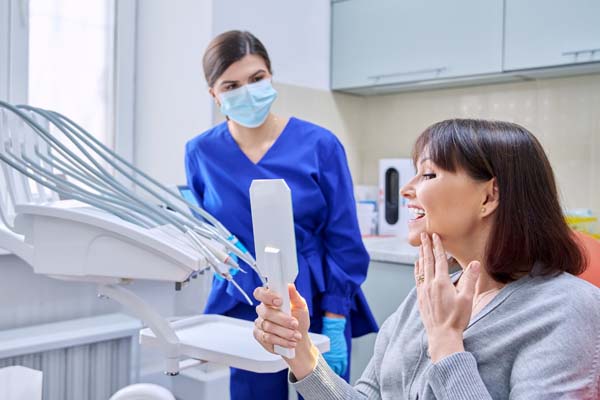 Replacing a missing tooth as soon as possible helps prevent issues that lost teeth can cause, like bone tissue deterioration in the jaw, an increased risk of tooth decay, and the remaining teeth moving out of their proper alignment.
The advantages of immediately replacing a missing tooth
Let us take a look at a few of the benefits of replacing a missing tooth with an oral prosthetic as soon as it falls out.
1. Restores oral health
A lost tooth can adversely impact a person's oral health. For one thing, the jawbone breaks down when it stops getting stimulated, which can change a person's facial structures and appearance. A lost tooth also leads to the remaining teeth becoming misaligned as they attempt to close the gap left behind. Misaligned teeth are more prone to tooth decay and increase the risk of gum disease.
Replacing a missing tooth immediately helps avoid these issues, keeping the teeth and gums healthy. Implants are the most recommended missing teeth replacement options because they replace teeth roots, helping to keep the jaw adequately stimulated.
2. Restores appearance
A missing tooth can affect any smile, regardless of how healthy the rest of the person's teeth are. People with lost teeth tend to be reluctant to smile. The condition of a person's teeth is one of the first things that people notice during social interactions, so having a missing tooth can lead to people feeling self-conscious about their smile.
3. Restores the function of the lost tooth
A missing tooth can lead to issues speaking and eating. Certain words, like those with a "T" sound, require pushing the tongue against certain teeth to pronounce them. That is challenging when one of those teeth is missing. Teeth also serve an essential role in helping to break down and grind food. A missing tooth diminishes a person's ability to chew food, forcing them to be more restrictive with their diet. A restrictive diet can lead to deficiencies of essential minerals, like calcium, phosphorus, and fluoride, that teeth need to be healthy.
4. Supports surrounding teeth
Teeth exert pressure on each other and help keep one another in their proper positions. When a tooth falls out, the remaining teeth might move out of their original places in an attempt to fill the space left by the lost tooth. This is the body's way of trying to adapt to the gap in the mouth.
Unfortunately, misaligned teeth can affect a person's smile and make it harder to clean teeth properly, increasing the risk of tooth decay and gum disease. Replacing a lost tooth with an oral restoration gives the remaining teeth the support that they need to remain properly aligned.
Explore missing teeth replacement options
Are you dealing with a missing tooth? Give us a call or stop by our Roy clinic to set up an appointment with our dentist.
Request an appointment here: https://www.mydavidsondental.com or call Davidson Dental at (801) 252-4814 for an appointment in our Roy office.
Check out what others are saying about our dental services on Yelp: Options For Replacing Missing Teeth in Roy, UT.
---
Related Posts
June 11, 2020
Curious about emergency dentistry during the coronavirus (COVID-19) disease pandemic? The COVID-19 disease has made it more challenging to get routine dental care, but many dentists still offer emergency dentistry services. Depending on its cause …